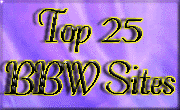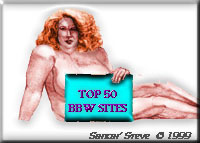 Come join the TOP 25 Size Acceptance Sites
BIGGER AND BETTER
ENTERPRISES INC.
Volume 2 Issue Three
JANUARY 1999
FASHION SHOWS & WINE TASTING
By Alexis Adams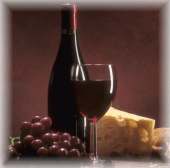 We are really excited about our event on Saturday January 30th. The whole night should be extremely exhilarating. It will begin at 7 p.m. and continue till the last person leaves.
John Davis from Pieroth Wines will be with us for the wine tasting. He and his associate will give us a sampling of their product line. I happen to be a wine collector by hobby and for many years have enjoyed Pieroths' line of wines. I hope you do as well. There will be time for anyone wishing to purchase wine from him to do so .You are by no means obligated to buy anything. Just sit back, enjoy and party with us.
After we sample these fine wines, get ready to be dazzled by a double fashion show. Double the pleasure and double the fun. The fashions are from two different vendors. One is Jody from Myles ahead. Their web site is www.mylesahead.com. Mimi & Marianne are from Beach Bubbles and will also be there to excite us with their new bathing Suit creations.
The models are comprised of our Bigger And Better friends that have been coming to our events. We thank everyone in advance for their participation. I know we are all going to remember this fashion show for a long time to come.
Please remember this event is a Pot Luck as well. The theme is "something that goes with Wine". Anything other then the wine from the wine tasting is as usual B. Y. O. B.
SPECIAL NOTE: IF YOU ARE PLANNING ON ATTENDING THE WEDDING OF ALEXIS & TOM IT WILL TAKE PLACE 1 HOUR BEFORE THIS EVENT. EVERYONE IS INVITED ANYONE INTERESTED SHOULD BE THERE BY 5.45 P.M.
wedding info
From the Editor:
This month I am seizing this opportunity to try & reach out to some of you who I have not yet had the opportunity to meet. So many people I have spoken to still have not yet attended one of our functions and are still sitting home. I once sat home alone as well. This is the second organization I have had the privilege to start. Yes, I do consider it the ultimate privilege!
I just want to let you know that this group Bigger And Better is reaching out to all of you. This is a safe place where you will find total acceptance no matter what your size or shape. There's no having to wonder if there will be a place you can sit comfortably, or doors you worry about fitting through. Everything and everyone here is Size friendly.
Please take that walk in faith and come to one of our events. We really want to get to know you. I know you will be glad you did.
See you soon !
LETTER TO THE EDITOR:
The "Image" of Bigger and Better
By Sylvia
What you see when you look into the mirror is important, not
because everyone needs to look a certain way, but because the way you perceive yourself is the image you project to others. Throughout my childhood, I grew up hearing, "Oh isn't she cute, don't worry, it's ONLY baby fat." Soon, that was replaced with, "My what a pretty face you have, IF only....." Finally, it progressed to, "You'd be so pretty, IF..." I would look into the mirror and see what others saw, someone who couldn't quite measure up. I lacked the self-confidence to project the image I wanted others to see. After all, I LIKE who I am, but I was afraid of what others would think. Furthermore, I was hindered by the fact that "Large" size clothes made you look like someone's grandmother!! How could I be confident and self-assured when I looked like Great Aunt Bessie?? It has only been in the last decade that designers have taken notice of the Plus Size and even Super-Size consumers; however, they still have a long way to go.

In the last few years, I have grown more confident. By returning to
school and re-entering the workforce after a divorce, I have found an
inner strength that I lacked before. I discovered a desire to find new
friends who would accept me without judgements and conditions. I heard about a new group forming to promote Size Acceptance and it sounded intriguing. I went to the first gathering and was literally blown-away. Not only did I find an assortment of men and women, but I also found a place where people looked NOT beyond my size or around my size, but directly at ME. I quickly found the self-confidence to be exactly the person I wanted to be all along. I feel better about myself and now I can project that to others around me. I no longer hide behind Granny clothes, as I plan to journey through life showing others that "IMAGE" is what you make of it. I can choose to be seen as the fat lady with low no confidence in herself, or I can project the image of someone who is at peace in with her life. I have made my personal choice.
THANK YOU Bigger and Better for opening the door. I took the first step, and now I'm ready to SOAR!!
Sylvia J. Zuelch
THE FA WAY
Coming Out
By Thomas Gleaton
The barriers and obstacles I have encountered as a FA (Fat Admirer) have been unique and at times unusual. There have been times when I wondered why I ended up with the preference I have. I've never questioned it or denied it though, no matter what the cost.
I have yet to meet a person who has not "liked me" simply because I am openly attracted and married to a super-sized woman. There have been times when friends and acquaintances have made some very uneducated, untrue, and sometimes rude statements to me about the very women I am attracted to. I have corrected these individuals abruptly when they cross that line into being distasteful and offensive. At times I believe they really do not honestly know any better. Influences and things that they have heard have molded their opinions. All I can do is to try to convey how I feel, and how wrong they are from my point of view. I have never denied my preference, as I feel that would make it seem like I was ashamed of my attraction. I am so open about this because I believe this attraction is normal and natural just like the attraction to any other physical aspect of a woman's beauty. To me, the round and flowing shapes of a big woman's body are so very sensual attractive. The straight lines and hard edges on a smaller woman's body just do not attract me, as they seem to attract other men. The reason I have never pursued a smaller woman is because I am not attracted. Even a "healthy" or "voluptuous" woman is really too skinny for me.
I want friends and Family to know that the big woman I am with arouses and satisfies me more than a skinny woman ever could. It is because of this I am still disappointed in how many men deny their
Preference, even if they are with a big woman! It is as if a man with this preference has to do his best not to even reveal it to the woman he is attracted to for fear that she will think he is flawed in some way. It is so damaging when a man who has this preference is so ashamed of it that he tries to "hide" a larger girlfriend from friends and acquaintances. I "came out" about my preference for a larger woman from the time I realized it, at the age of 16.
I really do wish that others who find themselves attracted to a larger partner were more honest with others and themselves about it, but I have to keep in mind the facts. I believe a part of the denial has to do with the fear of rejection. Most of the women I have met took a while to really believe I was serious about finding them attractive. I think that if "size acceptance" ever becomes a household word, others who share the preference but live the lie would see
That it's "ok" for them to come out with this part of their sexuality. With people becoming more tolerant of different sexual preferences, hopefully some day people of size and those who admire them can feel at ease in talking about a preference that is perceived as "different". I still think that the western culture of the 60's and 70's is responsible for "shrinking" the size that is supposed to be "perfect". We should not forget that countless cultures and civilizations have adored, respected, and sought after partners of size because of their own standards. Our culture claims on one hand that "thin is in", but for ages, a more voluptuous woman was more desirable than a thin, frail woman. So, come on out, we have work to do!
LAUREATES LAIR
RUBENESQUE
By: George N. O.
As the orange halo cast over the horizon grows
The warmth in your heart swells and glows
The figure beside you is rubenesque
And a more beautiful woman than all the rest
Her inner warmth as the setting sun
Has re-energized the peacefulness God begun
Creating a calm that comes only after a storm
You can feel your life being reborn
A life renewed by her passion and joy
She doesn't have to play games and be coy
For the twinkle of her eyes and smile on her face
Is what got you started on this glorious chase
Now you rest calmed by her warm heart
Wondering why it took you so long to get smart
Realizing rubenesque women are women to
And you have found the woman for you
More radiant than the sun
A life now filled with fun
More brilliant than the stars
No need to search in smoky bars
She is rubenesque
More beautiful than the rest
You no longer care
Let the others stare
SECLUDED SANDS
By: George N. O.canalyst@aol.com
Somewhere where the sands are white
where the waters run deep
along a secluded beach
Somewhere in time two souls came to be
Two stemmed glasses and a bottle of wine
Two souls sat down to dine
Each staring deep into the other's eyes
Each hearing the other's intimate cries
Somewhere two souls all alone
Joined together and became one
Somewhere where no one was to see
Two souls joined together by the sea

Naked they laid on the hot sands
Their motions in time with the ebb and flow
Torrid passion, hotter than the air
The sands covering their skins so bare
Somewhere where only silence could be heard
the sands never end
the waters are shallow and blue
there were only two
Somewhere where only two souls could mend
Two souls came together
They laid naked upon the sands
Their torrid heat hotter than the sun
They came together and were one
Somewhere where two souls could only meet
in the torrid heat
a passionate romance began
along the secluded sands
Somewhere two souls lay naked upon the sands
Two stemmed glasses and a bottle of wine
Two souls sat on the hot sands to dine
Two naked souls gazing deep into each others eyes
Each feeling the other's passionate cries
CONFIDENT BBW
BY Thomas Gleaton
This unique bbw I had the pleasure of being able to interview for this newsletter
Is Heide. She is 35, and has her own successful small business working with
Office maintenance. After coming to the realization that there is a need for plus sized models, she became very interested in participating successfully in that line of work in the future. Some of her hobbies include working on her voice and
her dancing ability. Heide really enjoys swimming, tanning, and walks by the beach.
When asked about her goals, Heide made it clear that one goal that is high up on the list for her is being the best that she can be in anything she does. With her interests in singing, dance, and modeling she really has been keeping herself busy too.
One person that Heide looks up to are Celine Dion for her singing ability and her charisma. Another person that was always available for emotional support is her father, who she names as another person she most admires.
Favorite type of movies for her are action/adventure. One of her favorite performers is Sharon Stone. Heide even mentioned the role Sharon Stone played in the movie "Basic Instinct" as a favorite performance. When given the time to read, Heide prefers mysteries. As far as music goes, her tastes are quite diverse, including musical categories like rock, country, R&B, hip-hop, and even some classical. The only music that she does not really enjoy is "heavy metal" and
"techno" type dance music. Her favorite song is "My Heart Will Go On" by
favorite artist Celine Dion.
One of the places that Heide would most like to to travel to is Venice Italy.
"It looks so romantic, with the boat rides through the waterlogged "streets" of
Venice. If given three wishes, she was quick to note that large sums of money,
Like most people, would be a pretty easily thought of request. The second
Wish would be to get to live more for herself, as she is very giving and
Works hard for her family in addition to making her business work. The
Third wish is actually also a goal too, because it would involve her becoming
a successful model.
One thing that Heide admires best about herself is her personality, and
Her ability to be confident and comfortable at any size. That is a quality that we admire about her too, because it is our desire that more women were able to exude that kind of confidence. One thing that she would change about her life if she could would be to have more aggressively pursue her dream of being a vocalist.
When this Daytona Beach resident was asked why she was interested in size acceptance, she very enthusiastically said that more women need to "wake up and realize the beauty within themselves". She also wanted to get the opportunity to show that a big woman can have a good self image, and be very sexy and beautiful in the process.
Born in South Carolina and raised in Atlanta, Georgia she met her future husband, Steve, as a neighbor of her mother's. He lived right across the street from her mother, and by chance they met and hit it off so well they knew they had to become married. Now in the few moments of spare time she gets to spend on the computer, she does some chatting on "Pow-Wow" in one of the BBW "rooms" there on that internet chat service. We are glad that she is active in the size acceptance movement because of the excitement and positive energy she radiates. We hope that her participation in the group Bigger and Better will be a way for her to do just what she set out to do by getting involved. Showing other BBW's out there you don't have to be tiny, to be a sensual, diverse, radiant, beautiful woman.
WHO IS THIS FA?
By Alexis Adams
Who lives in Daytona, is 40 years old and has lived in Florida since 1991? Why its Steve of course, a regular at Bigger And Better events. I haven't known Steve very long but I have surely enjoyed getting to know him & his family. He lives with his wife Heidi, his son Christopher & his daughter Ashley. Though he was born in Stanton Virginia, he lived in Atlanta Georgia prior to moving here.
When I asked him who the woman he most admired was he gallantly answered "my wife". Knowing Steve, I know just how true a statement that is. His admiration for his beautiful wife Heidi is quite noticeable in the way he speaks about her and looks at her. In this day and age it is so comforting to know that Heidi & Steve have been married for 18 years.
He works as a Plating Technician but would really like to be working with computers. Mostly as a technician. His hobbies include auto repair, auto races and sports. Though mostly he likes to watch the Daytona 500 that fantasy of driving in it is alive in his mind as well. The fact that he says Popular Mechanics as his favorite magazine is no surprise.
His main goal in life is to be the best person he can and do what he can for those in need. Steve is the type of person that makes an excellent friend because when your in a tight spot he's right there to help you out.
One of things Steve enjoys doing is listening to music. To him there really is no one special type. He enjoys it all. However his all time favorite is Brick House by the Commodores. I'm sure listening to that CD would partner well with his favorite meal filet mignon with a large Baked Potato with Broccoli & Cheese.
I asked Steve what is idea of a romantic night was and he said "it would start with Dinner at the Chart House a really fancy restaurant and continue with a walk along the beach". Sounds like an ideal night to me.
Some of the other interesting details on this avid FA are as follows. His favorite color is blue. Favorite season is Spring. He really enjoys water skiing. One of his favorite actresses is Kim Bassinger. His favorite type of Movie is an Action Adventure and his favorite type book is horror. Stephen King is a favorite author.
If Steve could travel anywhere it would be to the Caribbean. He's hoping to make that a reality in the future.
In closing I asked Steve if he had three wishes what would they be. He said "I want to be well off financially, have a chance to start over and correct mistakes I've made in life, and to see my wife make it in a modeling & singing career. I really enjoyed getting to interview Steve and if any of you would like to contact him he can be reached at daytona@uneedus.com.
IN THE KITCHEN
Aprils Red Beans & Rice
Ingredients:
2 - 3 Strips Bacon cooked 3/4 done so that it is just to the 'Crisp' stage, but not burned and crumbly
1/2 T Liquid smoke
1 can Red Beans UN-drained (Not kidney beans!)
1 can Red Beans UN-drained (Pulsed a few times in a food processor - pasty but not puréed)
1/4 cup Finely diced onions
1/4 cup Finely diced, cooked ham
1/4 t Cayenne powder
1/2 stick Margarine/butter
1/2 t Garlic powder
1/2 t Black pepper
5-6 squirts Tabasco or Louisiana Hot Sauce (preferred)
1/4 t Lea & Perrins' Worchester Sauce
Process:
1.) After cooking bacon, dice it fine and put into sauté pan over medium heat.
2.) Add liquid smoke, diced ham, onion, and garlic powder - sauté for a minute or two to soften onions and make a kind of roux...
3.) Add butter/margarine to melt, Worchester, Cayenne, and pepper sauce, again to a roux type mixture...
4.) Stir in both cans of beans and heat until warm through and through, stirring frequently to prevent burning.
5.) Taste frequently during last step, adding more salt, MSG, pepper, or hot sauce to desired taste...
6.) You can add a little water to desired consistency. I also add water when re-heating leftover...
Serve each serving with a scoop of cooked white rice on top, sprinkled with some parsley flakes and a squirt of hot sauce if you like.
Serves 4 - 6.
CALENDAR OF EVENTS
JANUARY 30, 1999
Fashion Show & Wine Tasting
PLACE: HOME OF TOM & ALEXIS TIME: 7 PM
Fashion Show starring some Fabulous BBW 's & A wine Tasting
courtesy of John Davis of Pieroth Wines
FEBUARY 20, 1999
ROCKY HORROR NIGHT
PLACE TOM & ALEXIS TIME 7 PM
Get decked out in your Rocky Horror Best.
Pot Luck Dinner & B. Y. O. B.
FEBUARY 28th 1999
Brunch & Beauty
Place Tom & Alexis Time 11 A.M.
Day to spend on Beauty Care & Gossip
Pot Luck Brunch
March 13th, 1999
Talent Show Night
Place Tom & Alexis Time 7 p.m.
Everyone welcome to participate.
Show off your great Talent to everyone.
Pot Luck Snack Foods
B. Y. O. B.
March 27th, 1999
Mardi Gras Night
Place Tom & Alexis Time 7 p.m.
Dress Up ! Plan to Party Hearty!
Pot Luck Cajun & Creole & New Orleans Style Foods
B.Y.O.B.
April 10th,1999
Games Night , Karaoke & Lingerie Fashion Show
Place Alexis & Tom's Time 7 p.m.
Get Ready to Play , Sing & Party
Pot Luck Finger Foods
B. Y. O. B.
CAN YOU DO SOMETHING TO HELP EDUCATE PEOPLE ABOUT SIZE
ACCEPTANCE?
SEEKING PEOPLE WILLING TO SERVE AS COMMITTEE CHAIR PEOPLE IN ALL MAJOR CITIES PLEASE CALL OUR OFFICES AT:
407-977-5143 office
407 -977-7610 fax
Address: 923 Ardillita Ct
Winter Springs Fl 32708
EMAIL IF INTERESTED TO ALEXIS OR TOM.
Tomthefa@biggerandbetter.net Thomas Gleaton, President of Bigger and Better Enterprises Inc.
Alexis@biggerandbetter.net Alexis Adams, Vice President of Bigger and Better Enterprises Inc.
WE NEED ARTICLES, POEMS & PICS FOR UPCOMING NEWSLETTERS
We would like to get some information from all of you out there interested in participating in BIGGER AND BETTER ENTERPRISES. Nothing to personal. Just some info that can help us create better events & newsletters. Thank you for your help. Please email or snail mail the form back to us.
Name ________________________
Address ________________________________________________
Phone #_____________________ Do you want others to have it if they ask us ___________________
Birthday___________
Age group 20-30____ 30-40_____ 40 -50______ 50 & over _____
Occupation ___________________________
Hobbies_______________________________
Would you considering giving others from your area a ride to events?
Are you in need of a ride to events?___________________________
What type of events would you like to see?_____________________
What features can we add to our newsletter that would make it better?__________________________________________________
What would you like to see added to our web site?_______________
Please return this to Alexis by email to nosass123@aol.com
Or by mail Bigger And Better Enterprises
923 Ardillita Ct.
Winter Springs Fl 32708